Welcome
H WA T OW
Acupuncture
& Traditional Chinese Medical Clinic
2008 S. Cooper St. Arlington, TX 76013 (817) 261-9919

And we know that in all things
God
works for the good of those who love him, who have been called according to his purpose. Romans 8:28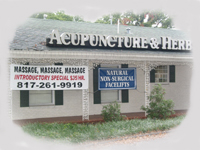 Want to look for an alternative medicine? Thinking of changing from Western medicine to a natural and no side effect healing medicine? Tired of treating of the symptoms but not the cause of the root? Hwa Tow Acupuncture and Traditional Chinese Medical Clinic is the perfect place for you to start the journey of the alternative medicine.
Hwa Tow Acupuncture Clinic was established on 1991. Jeff and Jason Tsing were the co-founder of the Clinic. Jeff Tsing is currently the primary acupuncture practitioner in this clinic. Jeff has over 20 years practise experience in Texas and he has seen more than 10 thousands patients in these over 20 years.
Hwa Tow Acupuncture Clinic offers a variety of services such as Acupuncture, Ear Acupuncture (ear staple and beads) and Herbal Medicine for pain, stress relief, quit smoking, weight loss , menopause, and more. In addition, we also provide Massage and Ear Candle therapy.
Hwa Tow Acupuncture is happy to answer any question you have about the acupuncture or herbal medicine, you are welcome to stop by or call in the office. We also offer a FREE CONSULATION for the new patient. You can take this opportunity and speak directly to the acupuncture practitioner and let him serving you better by understand you more about your chief complaints.

HWA TOW Aupuncture Clinic
offers a wide selection of herbs, vitamin, supplement and 100% pure essential oil. We choose from the best of the best of our herbs and supplements among the manufacturers. Most of our herbal products are make in the States but some of them are imported from China. We have hundred kinds of Chinese herbal formula that in the forms of raw, pill, capsule, tablets, and powders. We even custom blended the herbal formula for specific need of a patient by diagnosis his/her problems. Besides, we have the American Herbs for your selection too.
We are committed to serving you better by providing the high quality services and herbal products HWA TOW Aupuncture Clinic.